String Art Easter Egg Ornaments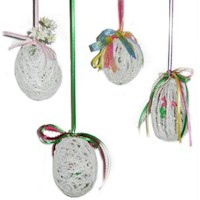 These String Art Easter Egg Ornaments are very simple ornaments– a fun craft baby-sitting project for grade-school kids.  This is one Mom may want to steal to make her own special Easter Egg tree ornaments.
Trivia:  Long ago people gave gifts of eggs carved from wood or precious stones. The first sweet eggs that were eaten were made in the last 100 years from sugar or marzipan.
Supplies
1 Ball 770-100 Lion Crochet Cotton, White
(each ornament takes about 2 yards.
Small balloons (we used the ones sold as'water balloons)
School glue
Clear or white glitter
Ribbon of your choice
Optional item to hang inside egg
Instructions
Create these fanciful String Art Easter Egg ornaments by dipping cotton yarn in water-soluable school glue and forming it over a balloon. While the glue is wet, you can shake glitter over it. When it dries (takes about 3 hours) the balloon is then popped and pulled out of the ornament.
Teachers: There are 400 yards [400 m] in a ball of Lion Crochet Cotton, so if you have a class of 30, that is almost 13 yards of yarn per student -- enough to make about six ornaments -- so a single ball will be plenty for an entire class!
Contributor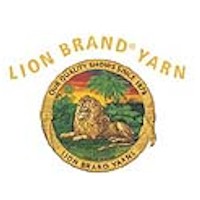 Lion Brand Yarn
Lion Brand is a family-owned and operated business and a beloved American brand since 1878. Today, the business is run by four members of the fourth generation of Blumenthals. It is their passion for yarn, reflected by all Lion Brand associates, that is the secret to Lion Brand's success.