Pirate Party Invitation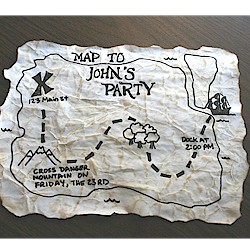 Everybody loves a Pirate Party and here is a great idea for an invitation. There are so many great activities that you can include in the festivities including a treasure hunt and lots of crafts..
Supplies
White Paper
Black Marker
Distress Ink Pad
Scissors
Instructions
Click on Printables and print out the sample map and adapt with information for our own party. Scan or make enough copies of the invitation for all the guests.
Time to make that pretty white map look rugged and old! To get rid of those straight paper edges, you can either tear the edges or burn them. I like the look of the burning better myself, so that's what I did. Just light a candle and carefully hold the paper next to the flame until it lights. As soon as it catches, blow it out so the whole thing doesn't catch on fire. I recommend doing this outside and keeping a metal bowl nearby so that you can toss the paper in it if the flames get out of control. It's also handy to have a damp towel on hand so you can pat it on any smoldering edges to put them out completely. Obviously, this is the one part of this project that your kids should NOT help with. Please be careful!
Now that the edges are nice and rough, take the entire page and crumple it into a ball. (This is the part the kids will really love!) You want to get the paper full of nice crinkles and folds. When you're content, unfold the paper and press it out flat on the table.
Now take the Antique Linen (lighter brown) Distress Ink and rub the pad lightly over the paper. You'll see that the ink sticks to the folds and creases but not to the flat parts of the paper. The result is a really cool distressed look. Be sure to ink the front and back of the paper, and go a little heavier on the edges, to give it a nice look. Editor's note:  You can also use a water color wash to tint the edges.
We've got a fun map now, but we need to tame it down a little and wear it out a little more. Take your squirt bottle and squirt water evenly all over the paper. Use enough water so that the paper is thoroughly wet, but not so much that there are puddles. The water will do two things: it will cause the ink to blend a little, creating a really nice smeary effect on the paper, and it will relax the creases you made so that the map is a little closer to flat (and will be easier to roll up later).
Be careful not to handle the map much when it is wet, or else you might tear it! Leave it flat on the table until it's totally dried. If you want to hurry this process along, you can use an embossing gun or hair dryer to gently dry the paper.
Patterns, Templates and Printables
Click on a pattern to open it in a new window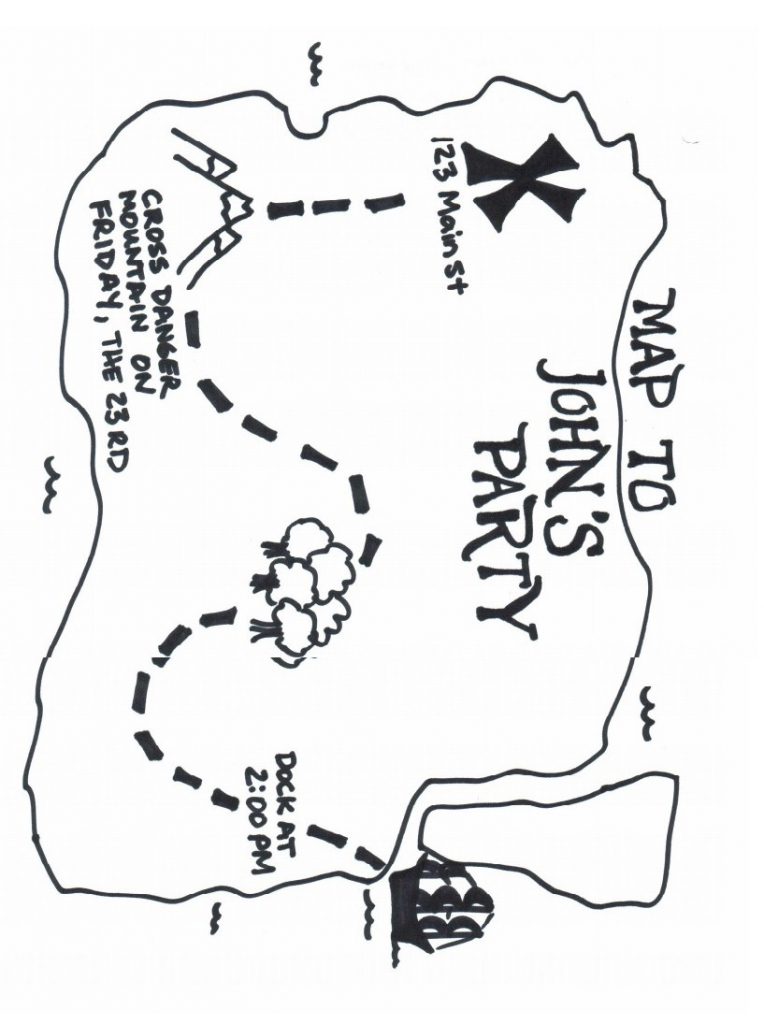 Contributor

ChicaAndJo.com
"We are Chica and Jo and we are crafty, frugal, and fun!  We will help you unlock your inner crafter with new and creative projects, using inexpensive, everyday items.  Visit us whenever you need ideas, crafts, or inspiration for just about anything!  Our hundreds of free tutorials loaded with photos and video make us your ultimate online guides for all things crafty."