Rock Monsters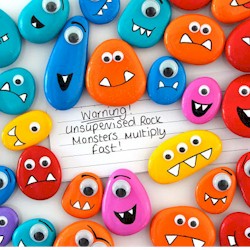 The kids can finally do something with all those pebbles they collect at the beach. Every time they see these fun Rock Monsters they will be reminded of the wonderful adventures they had at the beach or river.
Supplies
Pebbles
Acrylic paints
Medium sized and small paint brushes
Fine tipped black permanent marker pen(sharpie)
Strong (or Super) Glue
Small Magnets (optional for magnets)
Instructions
River rocks, beach stones or pebbles are all good for this project. Medium sized are best. Too big and they will need super strong magnets to stay on the fridge, too small and they will be too fiddly to paint. 3 - 5cm diameter is a good size.
White or light coloured stones are easier to paint and the smoother the better for the same reason.
We used acrylic paints. They are great for painting on pebbles and really durable.
We used a brand called DEKA Lack, which we got locally here in Cyprus. Any acrylic paints will do the job though. In fact you could even use water based kid's paints if you are not too fussy about the paint job. Sometimes it's the taking part and creating that is really the main objective anyway!
We painted 2 coats on each side of the pebbles (allowing drying time between coats) for a nice deep coloured shiny finish.
Now  Monster Faces ( Grrrrrr!
This is where your fine marker  comes in verrrryy handy. You can use a paintbrush and paint if you have a super steady hand, but a pen makes it much easier.
Draw or paint a monster expression on your pebbles remembering to leave some space for their eyes. Let your imagination run wild a lil' bit, or just copy some of our expressions (below). I like the toothy grins best.
We opted for googly eyes to give our rock monsters a little bit of character, but you could paint some eyes if you prefer.
I asked the children to place the eyes, one two and even 3!, and then I glued them myself with some really strong glue. Strong glue and children obviously not a good combination so this is a job for super mum.
I let the glue dry over night (follow the instructions on whatever glue you are using for drying times).
Optional Magnets
So now you have your cute looking pebbles all painted, it's onto the magnets. I bought some circular magnets They need to be quite strong, but not the seriously strong ones which will have you stuck in a corner with every metalic object in your kitchen cabinets pinning you to the floor. Mine were for holding up to 30g which seems to work great. I used my industrial strength 'E-6000' glue for this job, as it obviously needs a really secure hold to prevent ripping the magnet from the pebble when moving it around the fridge.
I stuck 2 magnets to some of the bigger, heavier stones, just to be sure they wouldn't slip down the fridge with the weight.
TopTip - If you are going to glue 2 magnets side by side, make sure first that you have them facing the right way to 'attract to one another and not 'repel' one another. Speaking from experience you can end up in rather a sticky mess if you don't!
I left the glue overnight to dry as a good bond is really essential here.
If you enjoyed this craft, you might also enjoy the Paperweight Hedgehog made with a rock.
Contributor

Coastal Inspired Creations
I'm a British girl living in Sunny Cyprus with my husband and 2 small children. I have always loved the coast and get my inspiration for my jewellery and crafts from the seaside. My husband is a keen kitesurfer, so when I am abandoned on the beach in favour of his board and kite I busy myself collecting pebbles and other interesting things to be turned into my next coastal creation! Beach stone jewellery is my specialty.