Pipe Cleaner Butterfly Magnet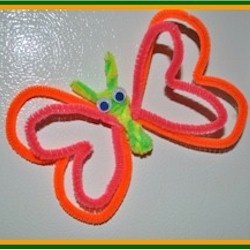 All you need are some colorful pipe cleaners, and glue and you can have a world full of butterflies.
Supplies
Pipe Cleaners (in a variety of colors)
Glue
Googly Eyes
Magnet Stripe
Instructions
Step #1:
Take one of your pipe cleaners and curve it in half, attaching the ends together.
Bend the center of the loop to create a heart shape.
You will repeat the process a second time.

Step #2:
Repeat the same process as Step #1.
Only this time use a different color and make them a little smaller.
Step #3:
Take one pipe cleaner of each color and twist the ends of them together, to create one wing.
Repeat this process for the second wing.
Flatten out the ends of each.
Set these aside for a moment while you create your butterfly body.

Step #4:
Take two different colors of pipe cleaners.
Twist them together.
Bend it in half.
This craft is reprinted courtesy of Easy Crafts For Kids.
Contributor

Easy Crafts For Kids
Join the Crafty Critters over at easy-crafts-for-kids.com for tons of easy crafts with simple step by step instructions. Stop by and meet the critters!