Bottle Cap Snake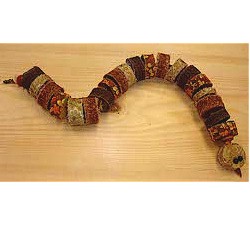 Looking for a fun toy that's eco-friendly? Make a Bottle Cap Snake Toy. Kids will love this recycled craft.
Supplies
Plastic water bottle caps - assorted sizes- approx. 20-25 for each snake
Acrylic paints - colors to match your fabric
Cosmetic sponges- (cut into 3 or 4 pieces) for applying the paint
Fabric
Glue (I used the Aleene's Tacky Glue )
Drill with 1/16" drill bit
Plastic drinking straws
Wax paper
Fishing line or jewelry wire - the length you want your snake (for mine I used approx. 19")
Buttons, beads for finishing
Bead crimps
Bead crimper
Eyes
Instructions
Pre-drill all of the plastic water bottle caps on the top in the center. Except for one for the head, drill on the side.
 
Place the plastic water bottle caps onto waxed paper. Dab sponge into paint, then dab onto the cap, until covered with paint. Let dry. Repeat if necessary.
 
To cover the water bottle caps, cut or tear fabric into strips, the widths of the plastic caps. Cut and glue various fabric prints, to fit on the side of each cap.
 
Continue to glue the fabric strips onto the bottle caps. Next, lay the prepared caps out on work surface in the order they will be when you assemble the snake.
 
The spacer beads are made from the plastic drinking straws. Cut pieces of plastic drinking straws (the depth of each water bottle cap). Place glue onto the straws or straw pieces, then place fabric into the glue. Each straw spacer will be approximately 3/8" to 5/8".
 
To make the snake head, use the plastic water bottle cap that has been drilled on the side. Cover with fabric as shown in step 3. Cut a circle of fabric to fit on the top of cap. Glue onto the top.
 
Glue eyes onto top of cap.
 
To connect the caps together, push the beading wire through the hole in the side of the prepared head. Place a bead on first, then the bead crimp. Crimp the bead crimp into place using a bead crimper.
 
On the outside of the head place a bead and two or more buttons.
 
Then place a fabric covered prepared water bottle cap onto the beading wire.
 
Next place a prepared fabric covered spacer straw bead.
 
Continue placing a cap, then a straw spacer, until all have been placed onto the beading wire.
 
To end the snake, place buttons and beads onto the beading wire.
 
Place a crimp bead onto the beading wire last and pull out excess slack and, using a bead crimper, crimp the bead tightly to hold in place.
Contributor
FaveCrafts.com
FaveCrafts is owned by Prime Publishing LLC, an Internet Media Company that operates web site communities, e-mail newsletters and e-commerce stores in niche areas such as crafting, home décor, wellness, and cooking. See their craft projects at https://www.favecrafts.com/