Egg Carton Caterpillar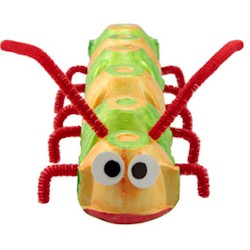 Spring is the time when all the creepy crawly little creatures come out to explore. This Egg Carton Caterpillar is a fun and easy project that recycles old egg cartons.
Supplies
Egg Carton
Masking tape or glue
Some old cardboard or construction paper
Markers or pens for customizing
Pipe cleaners
Instructions
The first step to building your Egg Carton Caterpillar is cutting out half of an egg carton. Try to trim the sides evenly and be careful not to rip it.
 
Now its time to color your caterpillar. You can paint it, color it with markers, or glue things onto it. I like to use lots of bright colors for my bugs. Have fun experimenting with the supplies that you have.

Take your pipecleaners and cut out ten little leg pieces. Tape or glue these pieces inside the egg carton. Try to make the legs the same length, or if you want you can trim them once they are taped into place.

Now we need to add the facial features. Cut out two circles of white paper for the eyes and glue them onto the face. Next poke two pieces of pipe cleaner through the back of the head to make the antennae.
 
Voila! Your Egg Carton Caterpillar is complete, ready to crawl around and eat everything in sight. Have fun!
This craft is reprinted courtesy of LooLeDo.com where you will find all kinds of kid friendly projects.
Contributor

LooLeDo.com
LooLeDo.com | Fun Kids Crafts, Science Projects and More. Step-by-step instructions for hundreds of incredibly cool crafts and science projects that can be built from everyday household objects.