Thomas Snack Train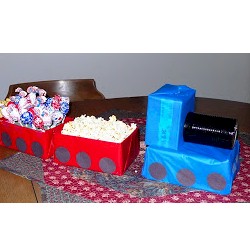 Earth Day is coming up soon, so let's be aware of using recycled materials for our craft projects like this adorable Thomas Snack Train.
Supplies
5 kids size shoe boxes
Red & Blue Wrapping paper
Black Construction paper
Toilet paper roll
Pen
Glue
Scissors
Clean tin can
Black Paint
2 googly eyes
Instructions
Start by wrapping three boxes in your red wrapping paper.
Then cut one box in half (this is for the top of the engine) and then wrap the ½ box and your last box in blue paper.
Paint your tin can black
Glue your googly eyes onto the front of your can
Using your toilet paper roll trace out 24 circles onto your black construction paper, then cut them out.
Glue your circles onto your covered boxes for the wheels (three on each side).
Now set up your train, just put the one big blue box on the bottom, then your ½ box on top and your can in front of the ½ box.  Then line up your three train cars (the red boxes) behind your blue engine.

Fill the cars with whatever snacks you want.   If you want to do a lollipop car like we did you will need some Styrofoam to put in the shoe box to stick your lollipops in.
This craft is reprinted courtesy of We-Made-That.
Contributor

we-made-that.com
We are two moms who love doing activities and making things with our kids.  We hope to inspire you and your kids with some of our projects!