Penguin Balloon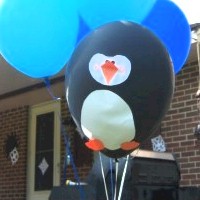 Create a fun childrens Penguin themed birthday party with these delightful balloons. Penguin crafts and games delight kids of all ages.
Supplies
Black Latex Balloons
White Paper
Orange Paper
Tape
Helium
String
Scissors
Markers
Instructions
Have some Solid Black Latex Balloons filled with Helium.
Cut out an Oval Shape for the Penguins Belly and smaller Heart Shapes for the Penguins face using the White Paper.
Then take your Oragne Paper and fold it in half and cut out a Triangle Shape to be used for the Beaks. Also with the Orange Paper Cut out some Feet.
Then on the Heart Shaped Face - Tape on your Beak so that the one Triangle is stuck on and the Top Triangle sticks up to look 3D.
 Add some Rosy Cheeks using a marker and add some eyes.  Then take all those pieces and tape onto your Balloon for and adorable Penguin.
Go to ThePartyAnimal for complete Penguin Birthday Party ideas.
This craft is reprinted courtesy of ThePartyAnimal.org.
Contributor

ThePartyAnimal.org
If you are looking to have a party to remember then thepartyanimal.org is the right place to come.