Lion Mask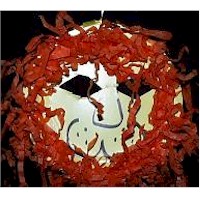 Get into the spirit of Kwanzaa with this fun and easy to make Lion Mask.
Supplies
Yellow or White Paper Plate
Scissors
Shredded Paper
Pipe Cleaners
Ribbon
Craft Glue
Instructions
To create a fierce or friendly lion face, take a yellow or white paper plate, cut out eyes, a nose and mouth using your imagination and add them to the lion's face.
Add a magnificent mane with paper shreds, whiskers with pipe cleaners, and decorate the lion's face further with other materials from your toolbox.
Add a ribbon loop to the top of the plate when you are done and you can hang it anywhere.
This craft is reprinted courtesy of thebestkidsbooksite.com.
Contributor

thebestkidsbooksite.com
This site contains suggested reading material and crafts to help young readers relate to the stories.