Cardboard Tube Drum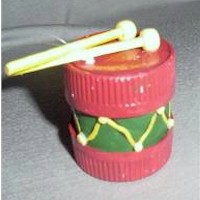 This Cardboard Tube Drum is from contest winner Carol Bell of Kenosha, Wisconsin who enjoys doing crafts with Girl Scouts, and trying to use things she can recycle.
Supplies
2 Screw on caps the same size (prescription bottle lids  work great.)
1 cardboard bathroom tissue roll
Paint (glossy) – colors of your choice
Small piece of yellow foam
2 yellow beads
2 match sticks
Small paper punch
Scissors
Hot Glue Gun
Instructions
Cut cardboard roll down the side, and cut off about a 1 inch piece.  Fit cardboard inside the lid and overlap and glue, paint and set aside.  Paint lids and set aside. Glue beads on to matchsticks, and paint the matchsticks.  When cardboard is dry, draw and paint on the design.  Fit it inside the lids and glue.  Punch  out small foam circles and glue them around the drum.  Hot glue drum sticks on top.  Run a clear piece of fish line or ribbon under the drum sticks for hanging.
Contributor

FreeKidsCrafts Contest Winner
IT'S A WINNER! Take a look at what one of our talented viewers submitted to share with you. This craft was selected as one of this month's winners to received $50 in craft supplies. Click here to find out how you can enter your original creation for our judges consideration.