Egg Snowman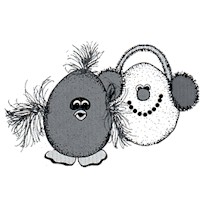 Styrofoam eggs are the base for these very comical snowmen and cardinals. This craft is sure to bring smiles to the face of the kids.
Supplies
3" Styrofoam eggs
3 Slices white bread
Glitter gel
School glue
Craft sticks
Disposable dish
Paper clip
 
Snowman:
Silver chenille stem
Two 1" tinsel pompoms
Two 1/4" wiggle eyes
1/2" orange pompom
10 black "E" beads
 
Cardinal:
Red acrylic paint
Red feathers
Black and Yellow foam
Two 1/4" wiggle eyes
Instructions
Snowman
Finely crumble 3 slices of white bread (with crust removed). Add 2 tablespoons glitter gel and 1 tablespoon water. Mix together with a craft stick.
Spread mixture on styrofoam with the craft stick. The dough may be sticky. Wet your hands under a faucet, then smooth the dough around the egg.
Unbend a paper clip and insert end into top of egg to make a temporary hanger. Hang egg to dry, then remove paper clip.
Glue wiggle eyes, pompom nose and E-bead mouth into place. Cut a 51/2" length silver chenille stem. Bend into a U-shape. Glue chenille stem and 1" royal tinsel pompoms on sides of head for ear muffs.
Spray with clear acrylic finish or paint with a coat of glitter gel and water.
 
Cardinal
Repeat Snowman steps 1 through 3, using the following recipe: 3 slices white bread, 2 tablespoons red paint, 2 tablespoons school glue and 2 teaspoons water.
Allow shape to harden for 30 minutes. Make toothpick holes at wing, tail and top feather placement. Press a pencil eraser in to the mouth to make a 3/8" hole. Allow to dry completely.
Cut beak, feet and eye pieces from foam. Glue beak in mouth opening. Glue on eye piece and feet. Glue red feathers on body. Glue wiggle eyes on eye piece.
This craft is designed by Patty Cox and is reprinted courtesy of Hands On Crafts For Kids.
Patterns, Templates and Printables
Click on a pattern to open it in a new window

Contributor

Sudbudz
Want to have some creative family time? Print out our SudBudz® Masks and get crafty with the kiddos! More than just a typical Fizzy Bath Ball, SudPrize® is a first ever line of skin-loving and natural bath products that make bath time Fun for Kids and Easy for Moms. A Free companion App, SudBudz® engages your children into an immersive world of special and unique characters called SudBudz®.