Patriotic Flip Flops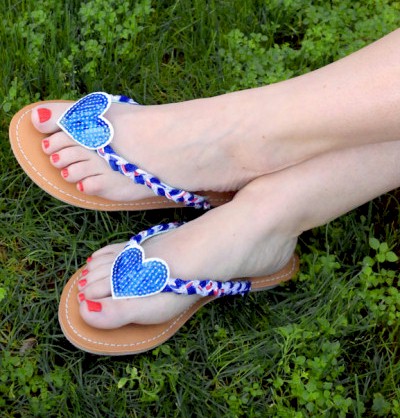 It's summer and the holidays and parades abound. Make these Patriotic Flip Flops and join in the fun and show your colors. Check the Dollar Stores for inexpensive flip flops and ribbon.
Supplies
Ribbon, 3 different colors or patterns
Measuring tape
Scissors
Tape
Flip-flops
Hot glue gun
Heart applique patch
Needle and white thread
Instructions
Measure and cut 3 strips of different-colored or -patterned ribbon at least 36" long. We used size 6 flip-flops, but shoe sizes vary, so you may need longer lengths of ribbon for larger shoes. Tape the ends of all 3 strips to the edge of a table then braid them together.
Test the braid to make sure it will fit all the way around the top of the flip-flop's V-shaped strap. Once you're assured of the fit, remove and tie knots at both ends.
Starting at one end of the strap, add an inch of hot glue to attach the braid. Work in small areas until you've reached the other side of the strap.
Position the heart patch on top of the braid where straps form a V. Poke your threaded needle through both the strap and the patch to stitch it in place.
Once stitched, lift the patch up slightly then glue it for good measure.
Contributor
Everyday Dishes & DIY
Everyday Dishes & DIY (formerly Cherylstyle) is an online lifestyle media company stirring up dependable recipes and crafts for the everyday family. We collaborate, develop, test and re-test all original content in-house, working out the kinks so you don't have to! Everydaydishes.com publishes new recipes, diy projects, craft ideas and videos daily.