Felt Ice Cream Pops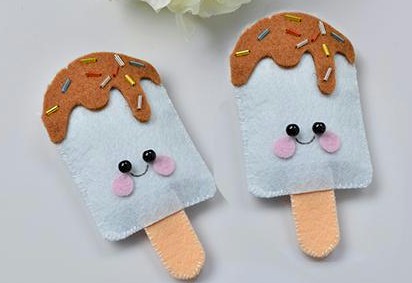 Whether you are decorating a package or a card, these Felt Ice Cream Pops will put a smile on the recipient's face. Extra touches make your presents even more memorable.
Supplies
Coffee Felt Paper
White Felt Paper
Pink Felt Paper
Yellow Felt Paper
1cm Glass Tube Beads
4mm Black Jade Beads
Cottons
Scissors
Sewing Tools
Glue Gun
Pen
Instructions
Cut 2 pieces of white felt paper with a certain shape and 2 small pieces of yellow felt paper as shown below;
Stick the 2 parts together respectively to make the 2 surfaces of the ice cream;
Cut a piece of coffee felt paper into a certain shape as shown;
Thread a piece of cotton thread through the sewing needle, then sew some glass tube beads on the surface of the coffee felt paper;
Stick the whole coffee ice cream top on the white felt paper.
Glue 2 black beads on the front surface of the ice cream, making them the eyes of the lovely ice cream;
Thread a piece of black thread through the sewing needle, then sew a smile on the face of the ice cream;
Cut 2 pieces of pink felt paper into small dot, and glue them on the cheeks respectively.
Thread a piece of white cotton thread, and then sew up the edges of the ice cream as shown, leaving an edge open;
Insert a small amount of fiber fill into the inner spacer of the ice cream, then sew up the rest of the edge.
Contributor

Panda Hall Learning Center
Pandahall Learning Center is a large and free active online community on jewelry craft knowledge sharing. It collects thousands of jewelry making projects, techniques instructions about beading, wire wrapping, braiding etc.,as well as craft ideas and customer shows.