Easy Fish Craft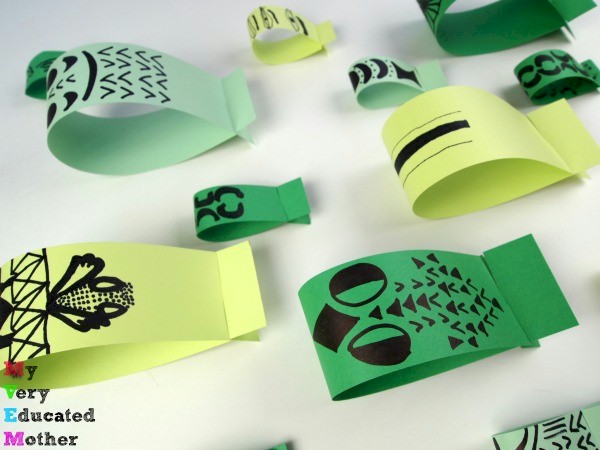 This Easy Fish Craft is a great craft for young children whose attention span may not keep them interested enough for a more complex project. It can be made into a mobile if you want to carry it a little further. The project is perfect for VBS when talking about the fish symbol that was used in the early days of Christianity to identify one Christian to another.
Supplies
Paper
Markers
Scissors
Needle and thread
Glue or tape
Dowel or wire hanger
Instructions
Cut the paper into strips; we made ours 2"x12" and 1"x6".
Snip on the top right and bottom left, fold them around and slide them together to make a fish!
Cut notches on the top and bottom of the opposite corners.
Let the kids get creative making fish for a school of fish mobile.
Gently bend the paper to find the center and make a small dot. From there you can decorate your fish with whatever colors or patterns you choose.
Psst...that means you can walk away and let them get creative!
Fold the paper together and you get a fish!
When you're done designing and drawing, gently bend the paper and slide the two notches together to create your fish.
Your design choices are limited only by your imagination!
You can go on to the next steps if you want to create a mobile. If you are working with a group of children, everybody can contribute their creation.
Now lay the fish out in rows to make it easier to attach them on your mobile.
It's always easier to get an idea of how to hang your mobile if you lay it all out first.
Use the needle and hang your fish along the thread. A bit of tape or glue will help hold the fish exactly where you want it on the line.
A little dab of glue will hold the fish on the line where you want them!
Tie a piece of thread from one end of your dowel/mobile to the other for hanging.
Tie the lines of fish onto the mobile, it's easier if it is already hanging.
Kids Craft: School of Fish Mobile Idea, perfect for decorating a craft room, kids room, or school room!
Tada!
We hung our mobile in the craft/school room but I could see it looking awesome in a kids room too!
Contributor

My Very Educated Mother
Erin Sipes is a writer, crafter, and homeschooling mother of (soon-to-be) four based in rural Missouri. She is also the voice behind My Very Educated Mother, a blog dedicated to advocating the benefits of a creative home by sharing kids crafts and family-friendly recipes, as well as encouraging self-reliance, recycling, and responsible consumerism.