Party Hat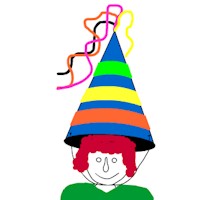 Get plenty of supplies and let everybody make and decorate their own New Year's Eve hat.
Supplies
Stiff paper or thin card
Crepe paper
Sticky tape or glue
Instructions
Cut Paper into a rough triangle then fold it into a cone. Fix the sides together with glue or sticky tape. Use the crepe Paper to decorate (streamers, flowers, etc.)
This craft is reprinted courtesy of Things2Make.com.
Contributor

Things2Make.com
This fun animated website has great graphics and animated directions for their projects that are listed alphabetically in two categories: Under 6 and Over 6.