Hanukkah Frame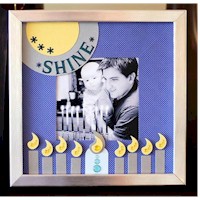 This Hanukkah frame is such a quick project to put together, and will make a great gift for someone special.
Supplies
Fiskars: 12-9908 7097 12 inch Portable Rotary Trimmer
Fiskars: 12-7330 7097 1/2" Round the Bend Squeeze Punch
Fiskars: 12-2597 7097 Adhesive Foam Set
Fiskars: 12-7305 7097 M Comma, Comma Chameleon
Fiskars: 12-7312 7097 L Comma, Comma Chameleon
Fiskars: 4800 7097 Ultra Shape Express
Fiskars: 12-49107097 Circles Super Sized Templates
Cloud 9 Design: Finley alphabet stickers, raindots
Lil Davis: Away We Go Travel patterned paper
Silver frame with mat (recycle if you can)
Silver & yellow cardstock
Instructions
Start by removing glass and mat from square frame (mine measures about 8x8 with a 5x5 photo spot).
Cover mat with strips of Lil Davis travel paper (Dark Blue crosshatch).
Use supersized circle template and Ultra Shape Xpress tool to trim large circle from silver cardstock.  Trim off corner to fit into upper left corner of mat and adhere.
Use regular circle template and Ultra Shape Xpress tool to trim smaller circle from yellow carstock.  Trim of corner to fit into silver circle and adhere.  Add "SHINE" stickers and asterick stickers from alphabet sheet, and raindots to centers of astericks.
Trim 8 skinny strips of silver cardstock to use as candles at bottom.  Trim one fatter strip of light blue crosshatch Lil Davis paper to use as center candle and corner round top 2 corners.
Adhere all candles to bottom of photo mat.
Punch 9 yellow Medium sized comma comma chameleon shapes from cardstock.  Punch 1 Large sized silver comma comma chameleon shape.  Adhere all as "flames" using foam adhesive.
Add raindots to flames and to center candle.
Reassemble frame, leaving glass out.
Contributor

FISKARS
You can read creative and compelling articles by industry experts and get great new project ideas in the areas of home decorating, kids crafts, party invitations, scrapbooking, sewing, quilting, and more! In addition, fiskarscrafts.com will feature how-to videos on some of Fiskars' coolest products, offer live online customer service, and have a crafting message board.