Paper Cup Angels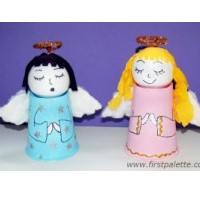 Make a whole choir of these angels for your holiday decorations.
Supplies
Paper cup
Styrofoam ball
White construction paper
White glue
White acrylic paint
Poster paint
Crepe paper
Gold pipe cleaner or craft wire
Black marker pen
Pencil
Paint brush
Palette
Scissors
Glitter glue (optional)
Instructions
Acrylic paint may stain your clothes or your furnishings. If paint gets on your clothes, do not allow paint to dry. Rinse under cold water then rub soap on stain and rinse again in cold water continuing to do this until stain is removed. If any stain persists use a commercial stain remover. Wash as normal. '

Always let your child use child-safe scissors.
 
This paper cup angel will need 2 basic parts: a round Styrofoam ball for the head and a paper cup for the body. Find the appropriate size for these materials so that the head and body are well-proportioned. 
If you're using a printed or glossy paper cup, you need to prime it with white acrylic paint. This will hide the prints on the paper cup and allow poster paint to adhere to the cup's surface. 
While waiting for the primer on the paper cup to dry, use a marker pen to draw a face on your Styrofoam ball.
Create hair for your angel by cutting strips of crepe paper and gluing them on the head. Curly or wavy hair can be achieved by crumpling up the crepe paper strips before gluing them on.
Check back on your paper cup. Once the primer is dry, draw a pair of arms with a black marker pen.
Paint the paper cup with pastel shades of poster paint such as light blue, pink, or yellow. Leave the angel's hands unpainted.
To make the angel wings, fold a piece of white construction paper in the middle and draw a wing shape, starting from the folded edge.
Cut out the wings and unfold. 
Loosen up cotton into wisps and glue them onto both sides of the wings except around the middle portion (this is where the wings need to be attached to the body).
Once the paint on the paper cup is dry, glue the wings at the back portion of the paper cup body.
You can further decorate the angel's dress with glitter glue designs.
Glue the head to the paper cup body.
To make a halo, loop a 3-inch piece of pipe cleaner or craft wire into a circle. Leave about a half-inch of excess wire to make a "stem" for the halo. Fold down the "stem" so that it is at right angles with the circle.
Plant the halo's stem into the angel's Styrofoam head.
Wait for the glue to dry before moving your angel.
This craft is reprinted courtesy of FirstPalette.com.
Contributor

FirstPalette.com
A free resource for fun and educational kids' crafts, the site features a step-by-step guide for each craft project and includes printable templates, art recipes, and environment-friendly tips for crafting.