Paper Tube Christmas Tree Ornament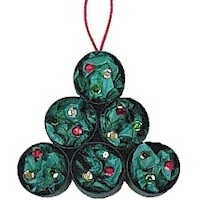 Decorate with glitter and beads or with sequins like we did. Easy and economical and lots of fun.
Supplies
Cardboard Tubes
Hole Punch
Green Paint and Foam Brush
Tacky Glue and Toothpicks
Scissors
Tissue Paper
Sequins
Rat-tail Satin Cord
Instructions
Cut tubes into six 1" rings. Paint green. Let dry.
Glue the rings together to form the shape of a tree as shown above. 
Punch a hole in the top ring and tie on a piece of cord to make a hanger.
Spread a thin layer of tacky glue inside each ring.
Crumple up 1/4 sheets of green tissue paper and push a piece into each tube ring. Use a toothpick and dab glue on tissue.
Place a sequin on each dab of glue.
This craft was reprinted courtesy of Terri of MakingFriends.com. 
Contributor

Terri Bose of MakingFriends.com
Terri is the creator of makingfriends.com, freekidscrafts.com, scoutswaps.com and badginabag.com. Her work is republished all over the internet and is considered the queen of kids crafts.