Rudolph Fireplace Matchstick Holder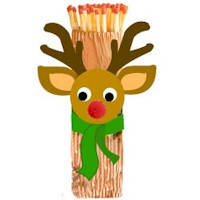 Make this adorable Holiday holder as a gift for Dad or Grandpa.
Supplies
Empty snack food container
Paper towels
10 x 12 inches corrugated cardboard or any other craft paper
Craft Foam brown, dark brown, skin colored
Wiggly eyes
Red pompom
Christmas ribbon
Scissor
Glue
Instructions
Use paper towels to clean inside of cylinder.
Wrap corrugated cardboard (or craft paper) around outside of cylinder. Trim cardboard if needed. Cardboard should be flush with bottom and top.
Click on Printables and trace and cut pattern out of craft foam. Glue the pieces together. Add red nose and eyes before you glue the face on the cylinder. Let it dry.
Tie a ribbon just below Rudolf's face and trim ends of ribbon.
Fill container with fireplace matches.
Copyright © EarTwiggles Productions, Inc. All rights reserved.