Santa Wish List Posting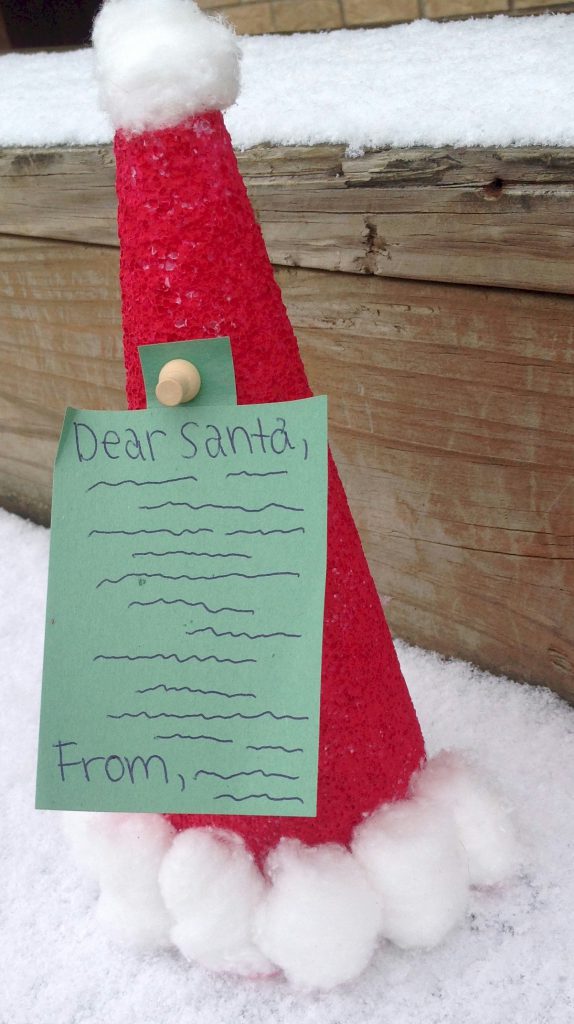 This clever Santa Wish List Posting is a winner for sixth grader Stephie from Wadsworth, Ohio. Stephie has 2 dogs, 2 kittens, and 3 fish. In her free time she likes to play soccer, softball, track, and crossfit. She also likes to craft and play with her kittens and dogs. She has 1 brother and 1 sister and is always filled with bright ideas.
Supplies
Paint (since you're making a Santa hat, I used red, but you can use any color)
Cotton balls
Glue
Tape or a tack
Christmas letter or list
Foam cone (you can find this at Walmart)
Paint brushes
Instructions
The first step is to take your foam cone and take your paint and paintbrushes to paint the foam cone. DO NOT paint the bottom of the cone or the top of the cone! I let the paint dry for one hour because I wanted to make sure that the cone was completely dry. You may need more than one coat.
The second step is to take your glue, and glue the cotton balls all along the bottom of the cone. Then, take one cotton ball and glue it right on the top. Let it dry for 30 minutes.
The third and final step, is to take your Christmas letter, or list, and tape or tack it on.
That's it! Enjoy!
Contributor

FreeKidsCrafts Contest Winner
IT'S A WINNER! Take a look at what one of our talented viewers submitted to share with you. This craft was selected as one of this month's winners to received $50 in craft supplies. Click here to find out how you can enter your original creation for our judges consideration.