Mother's Day Cake Pop Pearl Necklace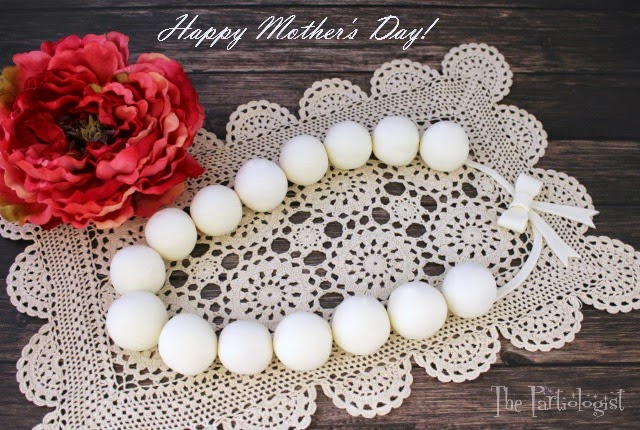 A Mother's Day Cake Pop Pearl Necklace is a delightful treat for Mom's on Mother's Day that the kids can help to make.  It's easy and something that older members of the family can work on with the younger kids.
Supplies
Cake Mix
Prepared Frosting
Small Scoop
Candy Sticks
White Candy Melts
Ivory Colored Fondant
Bow Tappit Cutter (or cut it free form)
Knife (adult supervision)
Instructions
Make your favorite cake mix and turn them into cake balls by crumbling the cake, processing it in your Cuisinart with a dab of frosting.
Scoop out the cake ball mixture. Form into balls. Insert a sucker stick into each cake ball.
Melt white candy melts in mason jar or other microwavable safe bowl.
Dip each cake ball into the white candy melts.
Roll out ivory colored fondant (Duff White is Ivory in color) Cut strips with a rolling mincer (or knife). Set aside.
Using a bow tappit cutter, cut your bow.
Fold the two ends, meeting in the center. Wrap the small piece around the center.
Remove cake pop stick from cake pops.
Lay the strip of fondant in a curve. Place a cake ball on the top of each end. Lay the bow on the middle of the fondant strip.
Lay the cake balls side by side, creating the strand of pearls.
What a beautiful treat for Mom on Mother's Day.  (Even Dad can help).
Other Images
Click on an image to open it in a new window
Contributor

Hungry Happenings
Beth Jackson Klosterboer is the author of Hungry Halloween featuring Movie Monster Munchies, Bewitched Buffet, and Dead Man\'s Diner. She has been a chocolatier and party planner for over 20 years and creates edible crafts which she features on her her blogs, http:www.HungryHappenings.com and http://www.HungryHalloween.com.