Butterfly Gift Box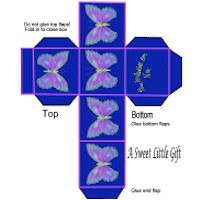 O00 This is a sweet little Butterfly Gift Box. It can hold a found treasure, a piece of very special candy, or jewelry. Be sure and use something tantalizing to tuck in with your gift, like iridescent raffia, sparkly wonders, stars, more fairy dust, remember, now you are the secret charmer, the smiling elf, the twinkly fairy giving a special magical gift to someone you love or like a lot.
Supplies
Cardstock or heavy paper
Scissors
Markers or Crayons if you prefer to create your own
Instructions
Print out your gift box. There is one blank box template and one that is already colored and only needs to be printed, cut out and folded. There is also one that is printed in black and white for you to color and a special bonus box decorated with fish and flowers. You should print these boxes out on a heavier paper stock, such as card stock. If you do not have card stock, use the technique above for making a template.
You might add some fairy dust, sparkle, or gold or silver pen outlines to the colored box to make it more festive.
The blank box is yours to design anyway that pleases you. You can even make this box out of paper that is foiled on one side, or interesting handcrafted paper, or bark and glue moss and tiny seeds or shells to it.
Instructions are printed on the pattern.
Patterns, Templates and Printables
Click on a pattern to open it in a new window