Make Turkeys From Maple Leaves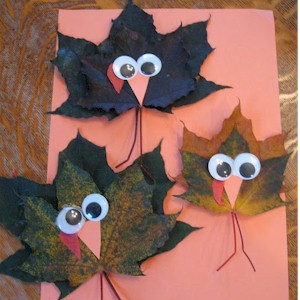 Get the kids outside collecting the beautiful leaves that Mother Nature has supplied to Make Turkeys From Maple Leaves. These easy little critters turn an outside adventure into a wonderful craft project.
Supplies
Leaves
Wiggle Eyes
Tacky Glue
Scraps of Construction Paper
Scraps of Tissue Paper
Scissors
Instructions
Glue two Maple leaves together using the picture as a reference.
Cut a triangle of construction paper for the beak and glue onto the leaf.
Cut a small piece of tissue for the turkey waddle and glue using the picture as a reference.
Glue on wiggle eyes.
Manipulate the stems to look like feet.
These Maple Leaf turkeys are a great adventure for the whole family.
Contributor
Grandma Ideas
Nina has 8 of the most wonderful grandchildren ever! Her desire is to provide activities that grandmothers can do with their grandchildren to develop deep, strong, and enriching relationships.