Balloon Turkey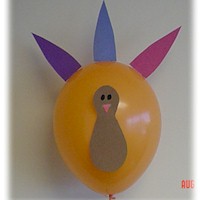 This Balloon Turkey is a great craft to keep kids happy while waiting for the real turkey to be ready. Put one of the older teenagers in charge of the activity.
Supplies
Balloons
Colored Construction Paper
Tape
Instructions
Inflate a balloon for each child.
Attach a ribbon and tie it to a chair or table leg.
Have the children draw and color feathers on lightweight paper.
Then, have them cut out the paper feathers and either tape or glue them to the top of the balloon. They can also draw, color and cut out a face or draw it directly onto the balloon.
Use the turkey crafts to decorate for your Thanksgiving feast. Have a few turkeys prepared before the guests arrive. If you decide to make these as a group craft, seeing one completed will help the children construct their own.
Contributor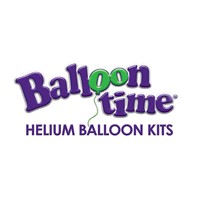 Balloon Time
Balloon Time is the leading brand of consumer helium balloon kits in North America. Balloon Time's family of products includes Balloon Time 30 Helium Balloon Kit, Balloon Time 50 Helium Balloon Kit, Balloon Time A La Carte helium tank, Balloon Time Party Create-A-Face Sticker Kit and Balloon Time Party Foil Helium Balloon Kit. The helium balloon kits are available at a variety of retailers worldwide. Visit BalloonTime.com to learn more about Balloon Time and its family of products or to locate a retailer.