Easy Turkey Wreath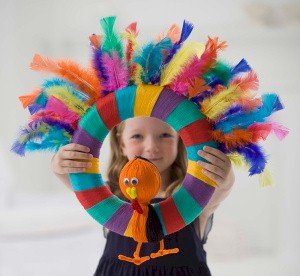 This Easy Turkey Wreath will be a treasure that you will be able to enjoy year after year. This is a project the kids can help the adults with so put them to work and enjoy the fun.
Supplies
Bonbons Yarns assorted colors
8 1/2 x 11 in. (21.5 x 28 cm) piece of cardboard
Foam wreath about 12 in. (30.5 cm) across
Foam ball about 3 in. (7.5 cm) diameter
Straight pins
Craft glue
Packing tape
Chenille stems, 4 orange and 1 each red and yellow
2 glue on eyes, about 3/4 in. (2 cm) across
About 36 craft feathers in assorted sizes and colors
Paper plate
20 in. (51 cm) length of picture hanging wire
Instructions
TURKEY
Cut a 20 in. (51 cm) length of orange yarn and set aside. Wind all of the remaining orange yarn around the 8 1/2 in. (21.5 cm) side of cardboard. Slip the 20 in. (51 cm) length under the wrapped yarn and tie tightly to make a tied bundle of yarn.
Repeat with black yarn.
Pin orange bundle of yarn to top of foam ball with a straight pin, then smooth over half of the foam ball.
Repeat with black bundle of yarn on other half of foam ball.
Wrap both orange and black yarn with an orange chenille stem at bottom of foam ball. Trim any excess chenille stem and set Turkey aside.
WREATH
Glue one end of one of the remaining yarn colors to the wreath. Wrap Wreath for about 2 in. (5 cm), then cut yarn. Glue cut end of yarn to Wreath. Continue wrapping Wreath with remaining yarn colors in 2 in. (5 cm) segments or as desired. Cover yarn ends of previous color with wraps of new color.
FINISHING
Wrap yarn at bottom of Turkey around to the back of the Wreath. Secure yarn ends with a strip of packing tape.
Cut 2 pieces, each 4 in. (10 cm) long from one orange chenille stem for Turkey feet.
Bend 2 remaining 2 orange stems about 2 in. (5 cm) from end for Turkey legs.
Wrap a foot piece around bent end of each leg.
Secure legs to back of Wreath with packing tape.
Glue eyes to Turkey. Cut and bend lengths of yellow and red chenille stems for beak and gobblers and glue to Turkey below eyes.
Lay Wreath onto a flat surface to determine the arrangement of feathers.
Pour a small amount of glue onto a paper plate.
One at a time, dip end of feather into glue, then insert into top edge of Wreath.
Contributor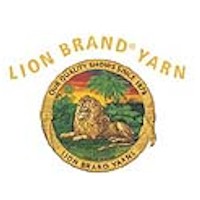 Lion Brand Yarn
Lion Brand is a family-owned and operated business and a beloved American brand since 1878. Today, the business is run by four members of the fourth generation of Blumenthals. It is their passion for yarn, reflected by all Lion Brand associates, that is the secret to Lion Brand's success.