Leprechaun Marionette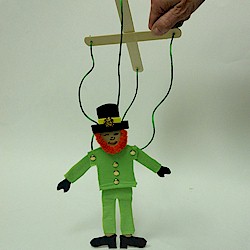 Teri P from MakingFriends.com created this fun marionette for St. Patrick's Day. Have fun making one and then watching him dance the Jig.
Supplies
Cotton Glove with cardboard insert or cardboard to line the inside of the glove
One Pipe Cleaner
Two Craft Sticks
Five Paper Fasteners
Satin Cord
Foam
Tinsel Stem
Marker
Fabric Glue
Craft Sticks
Scissor
Instructions
Fold the cotton glove in half so that the pointer finger and middle finger are the legs. The pinky and the ring finger become the arms.
With the left over glove cut out a shirt. Glue the ends so that the shirt does not come apart.
Using the paper fasteners attach the arms to the shirt and the pants to the bottom of the shirt.
Use two more paper fasteners to look like bottoms on the shirt.
Using tan foam cut out a piece for the face and glue to the top of the shirt. To make the hands, feet and hat cut out the shapes from black foam. Then glue to the appropriate places.
With a marker draw in the face.
Take one orange pipe cleaner and make tight spirals and cut off the extra and glue onto the face for the beard.
Take a small piece of yellow foam and glue to the hat.
With a gold tinsel stem form a small circle and glue onto the yellow strip on the hat.
Take two craft sticks and for an "x" shape and glue to hold.
Cut four pieces of green satin cord. Adhere one piece to each end of the craft sticks. Take the other ends and tie them around the back of the paper fasteners.
Contributor

The FreeKidsCrafts Team
These projects are created by Terri, Betty, Jamie or one of the talented staff members at MakingFriends.com. They have been created exclusively for publication on FreeKidsCrafts.com with supplies you'll be able to find around your house.