Ladybug Halloween Costume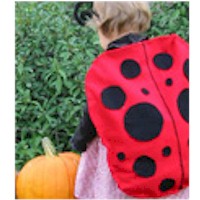 This simple Ladybug Halloween Costume is easy to make for kids and won't get in the way of Halloween Trick or Treating.
Supplies
1-2 Yards red felt
1 Yard (or less) black felt
Hot glue gun
Batting
Fabric scissors
Black permanent marker
Black Plastic Headband
Two black pipe cleaners
Black leotard, tights, and shoes.
Safety pins
Instructions
 Cut two large ovals for the ladybug wings. The size will depend on the size of your child, and should roughly run from neck to rear.
Using your black marker, draw a line down the middle of one oval to define the "wings".
Lay a layer of batting between the two ovals, and hot-glue the seams. You may sew the seams instead, if desired.
Cut several circles of various sizes out of the black felt. Glue circles onto the ladybug wings as "dots". Look at pictures of real ladybugs for inspiration.
For the antennae, simply wind pipecleaners around headband and curl into spirals.
Dress child in leotard, tights, and shoes. Alternately we added the ladybug dress on our daughter. Safety pin the wings to the back of your child's shirt and enjoy!
This craft reprinted courtesy of Kideas.com.
Contributor

Kideas
At Kideas, you'll find crafts, recipes, party ideas, and activities for children of all ages. Everything on the site is 100% free for use by parents, teachers, scout leaders, and child care providers.