Scrap Strip Halloween Card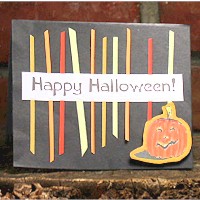 Every card maker and/or scrapbooker has tons of small thin scrap strips of paper. Don't throw them out! With this colorful scrap strip Halloween card we put them to good use. Of course, vary the greeting and color theme and this idea can be turned into an thoughtful handmade greeting card for nearly any occasion.
Supplies
blank card to match your envelope size
small thin strips of scrap paper in coordinating colors
small scrap of white paper
glue stick
pop dot type foam adhesive
Instructions
Cut and fold card blank.
Cut a piece of scrap white paper to proper size for greeting.
Gather a bunch of small strips of scrap paper. Cut into roughly the size you want them to be, angling the top and bottom cuts on a slight diagonal. You can do this quickly with scissors.
There's no need to measure. You don't want the strips too uniform.
Spread glue on the back side of the greeting piece. Glue strips onto the this piece so that they extend from the top and bottom. Apply more glue and attach the entire piece -- greeting and strips to card.
Cut out jack o lantern (or other Halloween design element). Attach to corner of card with pop dot adhesive.
And send it to someone special to make them smile.
This craft is reprinted courtesy of Cheri Sicard of FabulousLiving.com.
Contributor

FabulousLiving.com
Cheri Sicard is the editor of FabulousLiving.com, a website specializing in crafts, holidays, do-it-yourself and more. www.fabulousliving.com