Make A Black Cat And Pumpkin Halloween Ornament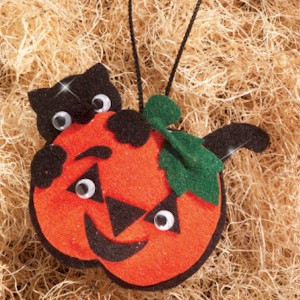 Halloween is one of the most popular times of year for decorating and the kids love to get into the spirit of the season. Black cats and pumpkins are popular themes and here they are turned into decorations you can hang from a small tree or a decorated branch. You could also enlarge this and make it out of construction paper for the bulletin board.
Supplies
One 9"x 12" sheet of Glitter Felt in Black
One 9" x 12" sheet of Rainbow Classic Felt in Orange and Kelly Green
White craft glue
Fabric glue
Scissors
One 5mm black pom pom
Pencil
12" black or orange yarn
Four 10mm wiggle eyes
Small amount of fiberfill
Instructions
Print out Pattern.
Cut all felt pieces according to pattern. When two pieces of the same shape are needed, pin and cut through two felt
layers at the same time.
Glue features in the following order, keeping them low as shown: mouth, nose, Black felt (or color of your choice)
eyes, wiggle eyes in center of felt eyes and eyebrow above pumpkin's right eye.
Glue Kelly Green felt stem to back center of pumpkin.
Glue ends of yarn to back of pumpkin to make hanger loop.
Position and glue pumpkin to Black cat/pumpkin felt shape, gluing 1/4" in from edge in short increments to prevent glue from drying too quickly. Leave bottom open between dots for stuffing. Allow to dry.
Apply line of glue along dashed lines on middle of leaf. Pinch together and hold until set. (You may use a paperclip to hold in place.) Referring to photo, apply glue along back of fold and position onto top of pumpkin near stem.
Glue cat's paws to front of pumpkin as shown.
Glue wiggle eyes to lower front of cat's face.
Glue pom-pom to lower front of cat's face, between the eyes, overlapping pumpkin halfway.
Lightly stuff pumpkin with fiberfill, using eraser end of pencil to evenly distribute fiberfill. To close apply line of glue to underside of pumpkin and press into place.
Patterns, Templates and Printables
Click on a pattern to open it in a new window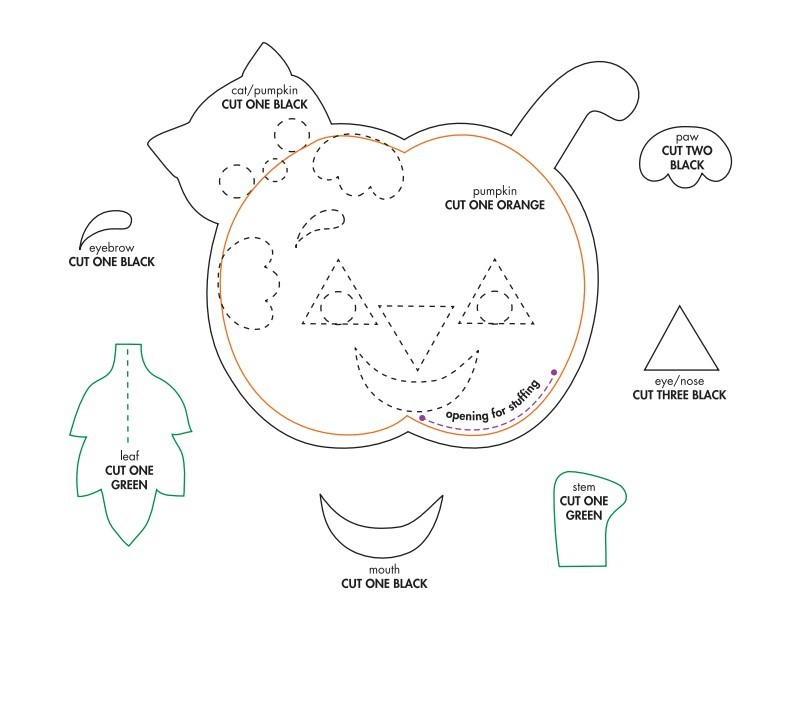 Contributor

The Kunin Group
The Kunin Group, a division of Foss Manufacturing Company, LLC, supplies a wide range of premium quality felt and fabrics to the worlds craft industry. Packaged for retail display, Kunin products are sold in retail outlets worldwide. All Kunin fabrics are made with Ecospun, the high-quality polyester fiber made from 100% post-consumer recycled plastic bottles. We are a green company as we spin the polyester fiber we use.