Hanging Tissue Paper Flowers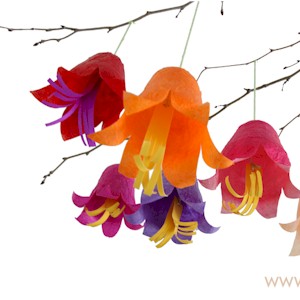 These beautiful Hanging Tissue Paper Flowers can be made by a teen and used to decorate her room. Or you can use it in any part of the house to brighten the decor for any occasion.  You  can change the color scheme to match any room or time of year.
Trivia: Lots of plants have bell shaped flowers. Some examples are Canterbury Bells, Lily of the Valley, Bluebells, Bleeding Hearts and many more. You can search them on the computer if you are looking for inspiration.
Supplies
Water Balloons
Balloon Pump
Colored Tissue Paper
PVA Glue
Glue Brush
Scissors
String
Colored Paper
Stick
Cardboard Tube
Instructions
To make these beautiful Hanging Tissue Paper Flowers, inflate the balloons with the pump and tie the end.
Tape the wide end of the balloon to a cardboard tube to make the balloon easier to hold when applying the tissue paper.
Dilute the glue with water and mix well. Brush the balloon with with the mixture and lay pieces of tissue paper over.
Use a hard bristled glue brush to pus the tissue paper into place. Brush more glue over each piece. Coat it with approximately 3 layers of tissue.Depending on how many layers you apply, the flowers may need to dry overnight.
Once the glue has dried, remove the cardboard tube and pierce the balloon with a pin.
Cut 6 slits partway up the sides of the flower. Try to space the cuts evenly around the circumference of the base.
Then cut each tab into a petal shape.
Use a pen to curl the petals out.
Use a large needle to pierce the top of the flower and thread a length of green string inside.
Pull the thread through and tied a large knot to stop the string from slipping out.
Cut narrow slits into one end of a rectangular piece of card or paper to form a frond. Curl the fronds around a pen.
Fold the paper fronds lengthways and punch a hole in the top. Tie it to the string inside the flower.
Other Images
Click on an image to open it in a new window
Contributor

Jellyfish Jelly – Creative Kids
Jellyfishjelly is the work of Miya Maeda."My work is intended to be a simple guide for non-crafty, "creatively-challenged" parents.  The concept behind this site arose from what I perceived to be the near universal need for parents of small children to find novel and challenging activities to occupy what can sometimes seem like a very long day."