Paper Plate Bunny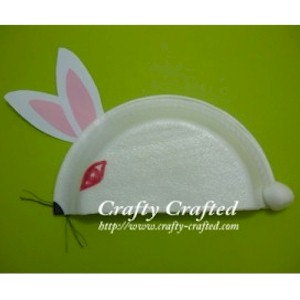 Kids will have a lot of fun making this Paper Plate Bunny for Easter. This craft is simple and made with inexpensive materials you probably have around the house already.
Trivia: The Easter Bunny is first mentioned in German writings from the 1600s. The Germans converted the rabbit image into Oschter Haws, a rabbit that was believed to lay a nest of colored eggs as gifts for good children.
Supplies
White Paper Plate
Scissors
Glue
White Paper
Pink Paper
Cotton Ball
Thread
Red Sharpie Marker
Instructions
To make your Paper Plate Bunny, cut a paper plate half. Cut two ears out of white paper and two smaller ears out of pink paper. Paste the pink on the white ears.
Paste the ears on the plate.
Paste a cotton ball as the tail.
Paste several strands of thread as the whiskers and draw the eye and nose.
Contributor

Crafty-Crafted.com
Crafty Crafted is a craft idea center suitable for children or toddlers to follow. By crafting, children will be able to gain control of their motor skills and thus improving the creative side of their brains.