Ivory Soap Easter Bunny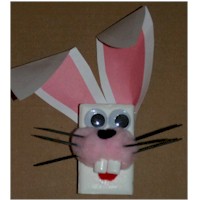 This goofy Ivory Soap Easter Bunny will delight everyone who sees it. This kids craft project is rated Easy  to do and very cute. The Ivory Soap Bunny would be a cute addition to an Easter Basket or a table decoration.
Trivia:  Ivory soap was invented in January 1878 when a large batch of White Soap was mixing when a workman at the factory went to lunch and left the machinery running. When he returned, he found that air had been worked into the mixture. he decided not to discard the batch of soap because of such a small error, and he poured the soap into the frames. The soap hardened and it was cut, packaged, and shipped and the demand for the soap that floats grew.
Supplies
1 bar of Ivory Soap 6 toothpicks Pink and white craft paper 1 small red pom pom 2 med pink pom pom Black Felt Wiggle Eyes Chicklettes Black Paint Low temp Glue Gun
Instructions
Glue two pink Pom Poms on the center of the ivory soap.
Glue 1 small red pom pom for the tongue
Add two pieces of Chicklette Gum for the bunny teeth
Paint toothpicks black. Insert toothpicks into cheeks securing with glue.
Cut out two sets of bunny ears( 1 white set and the other pink) Cut the pink inner ears slightly smaller than the white ears. Glue pink inner bunny ears to the white ones.
Use straight pins to attach ears to soap.
Glue Wiggle eyes just above cheeks.
Cut a small oval shape out of the black felt for the bunny nose.
Glue nose to the center of the pink cheeks.
Contributor

Crafty Noodle