Football Party Invitation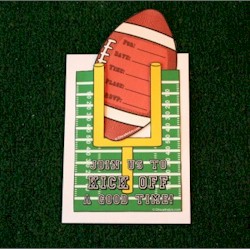 These Football Party Invitations will wow your guests whether you are getting ready for the Super Bowl or celebrating a special birthday.
Supplies
White cardstock
Color printer
Scissors
Double sided tape
Instructions
Print out the patterns onto white cardstock. You'll need to print one copy for each invitation you want to make.
Go ahead and write your party details on the provided lines on the football before you cut them out. (That way, if you mess one up and have to start over, at least you didn't waste time cutting it out!)
Then use some fine-point scissors to cut out the two pieces of the invitation.
Now flip the field part of the invitation so that it's face down on the table, and take the football part and place it on top. This is just a temporary placement, and you're just doing this so you can see how much room is on either side of the football.
Put some double-sided tape on each side of the back of the field, and along the bottom. Make sure that there's plenty of room for the football in between the tape, without touching it.
For the back of the invitation, get some cardstock in any color you like. I used white here, but you could use brown, green, or even the colors of your favorite team. Use your paper trimmer to cut a piece of the cardstock about 5 inches wide and 6.5 inches tall. You can make this slightly larger or smaller if you like, depending on how much border you want to show around the field.
Now peel the backing off your double-sided tape (if it had backing), flip it over, and stick it right in the middle of your background cardstock.
You should have a nice little pocket formed, and your football should fit right inside.
Isn't that so neat? I love it! Just stick it in an envelope and you're ready to go.
You might also enjoy making some of the following crafts for your football party:
Patterns, Templates and Printables
Click on a pattern to open it in a new window
Contributor

ChicaAndJo.com
"We are Chica and Jo and we are crafty, frugal, and fun!  We will help you unlock your inner crafter with new and creative projects, using inexpensive, everyday items.  Visit us whenever you need ideas, crafts, or inspiration for just about anything!  Our hundreds of free tutorials loaded with photos and video make us your ultimate online guides for all things crafty."