Alphabet Book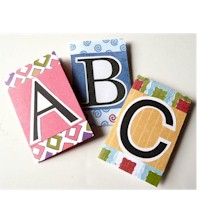 This Alphabet Book is are a nice afternoon craft that doubles as a learning tool. It's amazing watching your kids learn and develop their skills.
Supplies
Paper
Scissors
Magazines
Glue
Stapler
Instructions
The construction couldn't be simpler. First, we took a sheet of 8 1/2 x 11 copier paper and made it into a small 8-page booklet.
Fold in half top to bottom and then again left to right. Crease with a brazer or silverware knife for a sharp fold. Slit the top with a scissor and then you can staple them into a pretty cover you've cut from scrapbook paper. Print some great big letters from your computer. Cut them out and glue them to the covers.
With the books made, the fun really begins. Take a pile of old magazines and find pictures of things that started with the letters on those book covers. Cut the pictures out and paste them into the books.
Contributor

CraftyPod.com
Diane Gilleland has made things her whole life, and would gladly give up most household chores for an afternoon of serious crafting. She has a bi-weekly Pod Cast that is all about Making Stuff.