Fall Leaf Mobile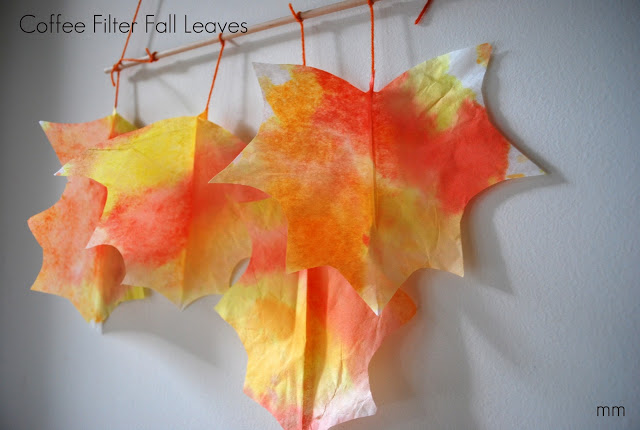 This Fall Leaf Mobile will remind the kids that Fall is just around the corner. It's a great time to make leaf projects from real leaves or those that you make yourself.
Supplies
Wax Paper
Watercolors
Paint brushes
Coffee filters
Scissors
Wooden dowel or stick
Yarn or embroidery thread
Glue
Instructions
To start, protect your work surface. I put down wax paper.
Now, flatten the coffee filters and paint them with bright fall colors like orange, yellow and red. Be sure to use lots of water. Watch what happens as more water is added - the colors blend and seep into each other. As the filter dries the colors will get brighter and more saturated.
Paint lots of filters, and then leave them to dry. This could take about an hour, depending on how wet they are.
Once dry, fold the filters in half and trim them into free-form leaf shapes. Have preschoolers use child-safe scissors. Cutting is a great way to build fine motor skills and hand-eye coordination.
Open the filter to reveal the leaf shape. Leaves can be taped to a window, added to a collage, or turned into a mobile.
If you want to hang your leaves on a mobile cut a few lengths of yarn. Put a dab of glue in the crease of the leaf and then place the end of the yarn in the glue. Press the sides together to seal the yarn in the crease.
Wrap the other end of the yarn around a wooden dowel, or stick you gather from outside. Hang all of the leaves on different lengths of yarn.
The painted coffee filters have a stained-glass quality and look pretty hung in a window, where they can catch the light.
Other Images
Click on an image to open it in a new window
Contributor

SassyDealz.com
"Michelle has a teaching degree and for the love of art she started sharing kids crafts on her blog to inspire teachers, parents, and the little ones! SassyDealz.com is not only a craft website, but also a place where you can find online bargains and freebies!"