Flower Pot Pens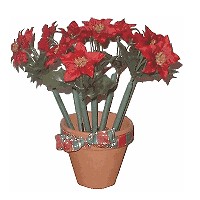 This attractive display of flower topped pens makes a practical and beautiful gift for young crafters to make for Mother's Day or their favorite teacher. The pens won't disappear because everyone will know where they belong.
Supplies
Your choice of artificial flowers (at least 6 stems)
Small clay flower pot (4-inch diameter top)
1 Roll of green florists tape
Package of pens (one pen for each flower stem)
2 Cups assorted dried beans, pebbles or aquarium rocks
Craft ribbon
Cardboard
Craft glue
Glue gun
Instructions
Cut a circle of cardboard to fit snugly in the bottom of the flower pot to cover the hole then glue in place. Fill the pot about half way full with beans or pebbles.
Use florists tape to tape the pen (with the point facing away from the flower petal) to the flower stem making sure the pen cap will fit after taping.
Wrap craft ribbon around the flower pot and secure using glue gun.
Arrange flower pens in pot.
Contributor

All Things Christmas
Here you will find holiday treasures such as printable cards, lyrics to your favorite Christmas carols, songs in MIDI format, unique craft ideas, and decorating tips. We have a lot of holiday stories, delicious recipes, links to other holiday web sites, and more, including our Christmas for kids-section, which offers fun, games, riddles, printables, and other goodies just for kids.