Fist Pumpkins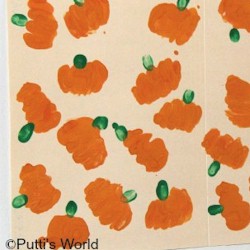 All you need to make these Fist Pumpkins is some orange and green paint, a thick paper or cardstock and a very enthusiastic kid who is happy to get paint on her/ his hands.
Supplies
Orange and Green Paint
Heavy paper or Cardstock
Plate or Flat Container
Instructions
Just pour some orange paint into a  plate or any flat container. Ask your child to make a fist and dipped her/his fist (knuckles) into orange paint. 
And press the knuckles onto the thick paper to make pumpkins. See easy peasy.  I love how the knuckles prints looks like ribs of a pumpkin.
After making as many pumpkins as you want. Dip your finger tip in green paint to add stems to the pumpkins.
Later on, you can draw some veins if you want.
This craft is reprinted courtesy of Putti Prapancha where you will find craft projects geared toward young artists.
Contributor

Putti Prapancha
Roopa Shri Mother of a loving little preschool girl, Putti who is the inspiration and very reason to start her blog - Putti Prapancha. It is the place where she share all her fun activities and creative play.