Jack Skelington Bouquet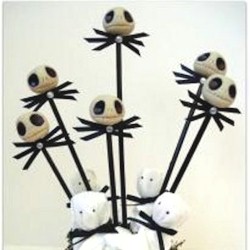 Ideas like this are great to do as a whole family.  You could have this centerpiece out during trick or treating or have it be the focal point for your Halloween gathering.
Supplies
Glue Lines ®
Craft Glue Dots
Small clay pot
Acrylic paints
Bamboo skewers
Sculpey III Ivory clay
Clay modeling tools
Black fine tip Sharpie
Black ink pen
Black satin ribbon, decorative ribbons
Dew Drops (white)
Floral foam
Moss
Floral pins
Lollipops
White tissue
Instructions
From one package of Sculpey clay roll out 6 heads. Shape as desired and add eye-sockets and mouth using modeling tools.
 
Poke a hole under each head with bamboo skewer BEFORE baking.
 
Bake heads at 275° for 20-25 minutes. Let cool.
 
Add a little glue to one end of bamboo skewer (not the pointed end) and stick into the hole you made earlier under the head. Hold in place until set. Glue on strips of black ribbon beneath head and add Dew Drop to the center.

 Paint clay pots with acrylics. Let dry.
 
Cut floral foam to fit inside pots.
 
Adhere decorative ribbons onto rim of clay pot with Continuous Glue Lines.
 
Place a Craft Glue Dots on top of lollipop and place tissue over it. Secure ribbon. Add eyes using ink pen.
 
Arrange ghoulish heads and ghosts as desired.
 
Cover any exposed floral foam with moss. Secure moss with floral pins.
This craft was designed by Lorelie Kim and is reprinted courtesy of Glue Dots.
Contributor

Glue Dots
Glue Dots® Adhesives – The New Way to Glue™!  Consumers have found endless uses for Glue Dots around the home, school, and office.  Glue Dots adhesives are acid-free, lignin-free, non-toxic, easy-to-use, and require no dry time.  Glue Dots adhesives provide a strong, versatile and safe adhesive solution that can be used by the entire family. Use Glue Dots adhesives for school projects, home décor, and around the office – the possibilities are endless!