'Fathers Day Sport Slippers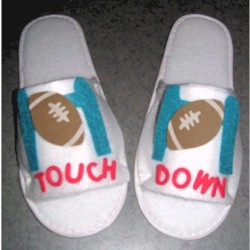 Make Dad "King of the Day" with a pair of his very own sports slippers. This is a fun and inexpensive gift the kids can make. With just a few supplies, they can create personalized comfort for Dad. He'll be proud to wear them!
Supplies
Pair of Slippers
Felt
Pre cut foam or felt sport stickers
Pre cut foam or felt letters
2 small wood balls
White paint
Glue
Instructions
You can find these slippers usually for $1.00 in stores such as Dollar Tree. The pair used in this project are terry cloth with a rubber sole. I also found the sport foam stickers and letters there. The ones in
this project are only suggestions. The kids can copy one or come up with their own design. The ideas are endless.

GOLF: I painted two flat bottom wood balls white and added black dots so they would look like golf balls. I cut two pieces from green felt so they looked like the "green". Glue these onto the front of the slippers,
then glue on the golf balls. Add letters to spell out "Hole in One"

FOOTBALL: I cut two field goals from felt and glued them onto the slippers. I then added foam footballs and added letters to spell out "Touchdown"

BASEBALL: I cut two bats from felt and two baseballs. I used black marker to make detail lines on the balls. Glue on the bat, then the ball and add the letters to spell out "Home Run"
This craft was designed by our favorite travelling grandma, Mary Ruthven.

Contributor

Mary Ruthven
 Mary is one half of a creative team for a site called Crafting Tales. Here you will find craft projects and patterns galore with a large section for Kid's crafts. They also have contests, gift shops and much more. Visit them at www.craftingtales.com