Fall Leaf Bulletin Board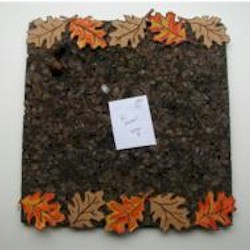 Fall is a colorful time of year. Celebrate by decorating your bulletin board with real fall leaves or some made from clay or construction paper.
Supplies
Fimo® Soft Modeling Material – Brown and Black
Modeling clay tools
12" x 12" Cork Tile
Cork Sheets
Elmer's® Painters® Opaque Paint Markers (brown, yellow, green)
Elmer's® Rubber Cement
Plastic push pins
Scissors
Instructions
1. Click on Printables and print and cut out leaf pattern. Trace 10 leaves onto thin cork sheet using a brown opaque marker to outline each leaf and draw the veins.

2. Use orange, yellow and green markers to color in 5 of the leaves. Cut each leaf out and use rubber cement to adhere to the large cork tile.
Acorn Push Pins

3. Roll a gumdrop sized ball of Fimo® and shape it into the acorn nut. 

4. Mix 3 parts brown Fimo® with 1 part black and blend the colors together to create a dark brown. Roll out so that it is slightly thicker than a quarter. Use a penny to make a circle pattern on the Fimo® and cut with scissors. Flatten the Acorn cup slightly and then place on top of the acorn. Use a modeling tool or knife to add detail.

5. Insert a push pin into the back of the acorn to create an indent.. Slightly larger of a hole is better than smaller so that the push pin fits in easily. Reshape acorn if necessary.

6. Make an acorn stem and attach it to the top of the cup. Bake Fimo® according to package directions. Once baked, use rubber cement to attach the acorn to the push pin.
 Acorn research: Each acorn has its cup, but that cup may be very shallow or may almost completely enclose the nut. The cup may be rough, prickly, or have smooth scales. The nut itself may be roundish, tapered, or even cylindrical. The surface of the acorn nut sometimes has a rather rough finish but may also have a seemingly waxed or varnished look and feel. Then there is the color of acorns. The variety is not as great as that of autumn leaves, but you'll be surprised if you start picking them up and looking. You'll see mixtures of green, yellow, and every kind of brown from tan to mahogany. The hues are muted compared to some autumn leaves, but perhaps that is a pleasant contrast—and it seems appropriate for so humble a thing.
This craft is reprinted courtesy of Hands On Crafts For Kids
Contributor
HANDS ON Crafts for Kids
Remember what we all say at Hands On Crafts for Kids, "there's no right or wrong way to crafting…only our way!" We hope that you will join us for Hands On Crafts for Kids – Back to Basics.