Edible Turkey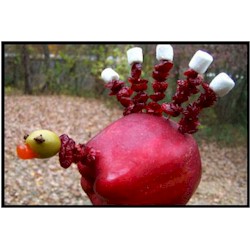 November is a month of Turkeys crafts; paper turkeys, yarn turkeys, clay pot turkeys; turkeys made out of anything and everything. Best of all are the turkeys you can eat, the one for Thanksgiving Dinner and this one that is full of healthy stuff.
Supplies
1 apple
1/4 cup Fruit Loops cereal or raisins (if using Fruit Loops you will need a few raisins for the neck)
6-7 mini marshmallows
7-11 toothpicks
1 green olive
2 cloves
Instructions
To make the feathers: Take raisins or Fruit Loops and slide onto toothpicks about 3/4 the way down. Place a mini-marshmallow on the end. You will need 6 or 7 "feathers" depending on the size of your apple. Stick the "feathers" into the back of the apple.
To make the head: Slide raisins down toothpick and top with a green olive (head). Use cloves for eyes. If your olive has a pimiento you can pull it out the back of the olive and let it hang so that it looks like a turkey wattle.
Insert three toothpicks under the turkey so it can stand freely.
This craft is reprinted courtesy of ThriftyFun.com and was designed by Cheryl Lore from Asheville, NC 
Contributor

ThriftyFun
Our goal at ThriftyFun.com is to provide valuable information to help people save money, save time and solve problems. ThriftyFun and its predecessors have been online since 1997. ThriftyFun has grown from modest beginnings to become a vibrant online community. Today, ThriftyFun.com is an interactive Web site where you can post questions and contribute answers to others who are trying to have fun while saving money.