Easy No Sew Fleece Blanket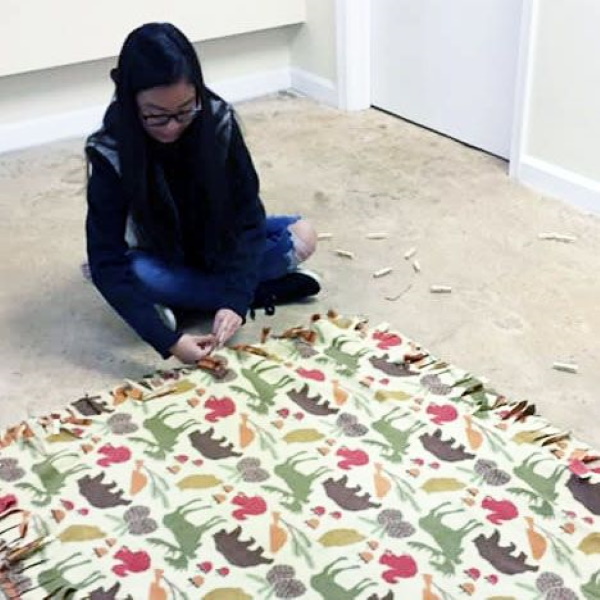 This Easy No Sew Fleece Blanket is a great project for an individual to make or for a group to make in multiples for a charity. The blankets can be made in any size as long as both the front and back pieces of fleece are the same size. A small lap blanket takes about 1.5 yards each of material for the front and back and a larger one approximately 2.5 yards of each. It is a common practice to have a patterned fleece for the front and a coordinating solid color for the back, but that is entirely up to you. DIY to Donate has a list with links for 15 Places that Accept Fleece Tie Blankets. Check it out to see where your blankets will be appreciated.
Trivia:
Early blankets were first made in the 14th century from wool and the name was thought to come from a Flemish weaver named Thomas Blanquette. Source: The Society Inc – Object History – Blanket
Supplies
Fleece :
1.5 yards of two coordinating materials for small lap blanket
2.5 yards of two coordinating materials for large lap blanket
Ruler
Pen or pencil
Scissors
Instructions
Trim and straighten your fleece and cut off the selvage edge.
Lay the fleece that will be the back of your blanket, right side down,  on a clear area of the floor. Using your hands, smooth out the piece of fleece. Then lay the piece of fleece that will be the front of your blanket, right side up, on top of the first piece of fleece; matching the edges. Smooth out the piece of fleece so it lies flat.
Decide what size you want your blanket (usually a square) cutting through both pieces of fleece, and squaring up the edges. Try to keep the cuts straight but they do not to be perfectly even.  Remember the finished blanket will be about 10 to 12 inches smaller than the size you cut because of the fringe.
Decide how long you want your fringe to be; anywhere from 4 to 8 inches. Using a 6 inch fringe as an example cut out a six inch square from each corner. Adjust the size to match the length of the fringe. Make sure that you cut through both layers of the fleece. Try to cut as straight as possible, but don't worry about the lines being perfectly even. Once they are tied together, you will not notice any difference.
Measure and cut the fringe along each side with the fringe being 2 inches wide. About 18 inches before you come to the end check to be sure you come out with the last strip approximately the same 2 inches wide. Otherwise adjust the size of the last 18 inches of fringe so you don't end up with a skinny or extra wide strip at the end.
Attach the top piece of fleece to the bottom one with a square knot, pulling the knot firmly but not too tight. Continue tying all around the blanket until it is complete.
Our church youth group makes these blankets for nursing homes and it makes the residents smile when they are delivered. If you or your group are looking for ideas and places to donate blankets etc. check out a site called DIY Donate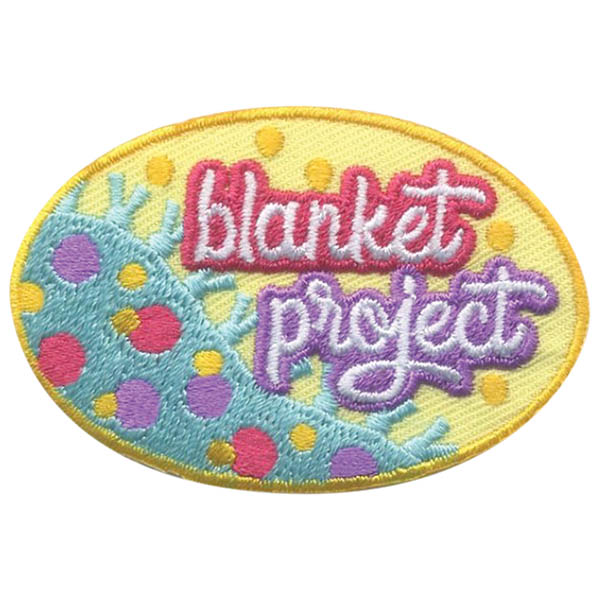 Award your kids with an inexpensive and colorful Blanket Project Patch from MakingFriends.com. They can wear them, collect them or trade them.
Supplies
Instructions
Contributor

Sudbudz
Want to have some creative family time? Print out our SudBudz® Masks and get crafty with the kiddos! More than just a typical Fizzy Bath Ball, SudPrize® is a first ever line of skin-loving and natural bath products that make bath time Fun for Kids and Easy for Moms. A Free companion App, SudBudz® engages your children into an immersive world of special and unique characters called SudBudz®.
Tags no sew projects