Easy Button Rings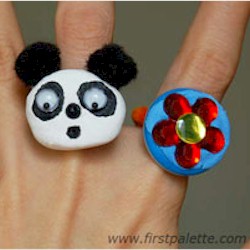 Button, button who can turn a button into a treasure? Creating these cute rings is all fun and easy. Use a variety of materials to transform a button into a fabulous ring!
Supplies
Large or medium-sized buttons
Self-hardening clay
Pipe cleaner
White glue (optional)
Things to decorate your ring: rhinestones, beads, gem-style stickers, sequins, pompoms, etc.
Instructions
1. The two basic materials you need for this project are buttons and pipe cleaners. Choose a button that is the right size to wear on your finger.
2. Cut a 2 to 3-inch length of pipe cleaner.
3. Bend the pipe cleaner in the middle and insert both ends through the button holes.
4. Intertwine the two ends of the pipe cleaner, keeping the metal tips folded in for safety. Make sure that the pipe cleaner ring fits snugly around your finger. 
5. Fill the top surface of the button with self-hardening clay.
6. Decorate your ring by embedding small objects like rhinestones, gem-style stickers, beads, and sequins onto the clay. Below are some suggestions that can give you some style ideas for your ring.
7. Creating a lovely ring need not be hard at all. I completed my first ring with just two items- a flower rhinestone embellished with a gem-style sticker on top.
8. You can also make character rings! The panda ring was made using white self-hardening clay and decorated with wiggle eyes, a bead for the nose, two pompoms for the ears and black paint for the eye patches and mouth.
10. There are endless possibilities so be creative with the existing materials that you have. When you're happy with your design, allow the clay to set overnight. Enjoy wearing your fabulous rings!
This craft is reprinted courtesy of FirstPalette.com.
Patterns, Templates and Printables
Click on a pattern to open it in a new window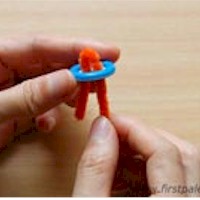 Contributor

Sudbudz
Want to have some creative family time? Print out our SudBudz® Masks and get crafty with the kiddos! More than just a typical Fizzy Bath Ball, SudPrize® is a first ever line of skin-loving and natural bath products that make bath time Fun for Kids and Easy for Moms. A Free companion App, SudBudz® engages your children into an immersive world of special and unique characters called SudBudz®.