Halloween Skeleton Mobile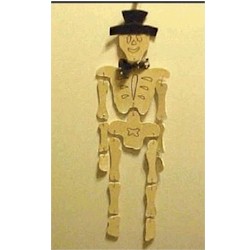 These skeletons are great fun to make and hang around for Halloween. They can be made of wood 1/4 inch plywood. Easy to make from scraps. Or if you don't have the tools to do wood, you could make them with a sheet of art foam. I made mine about 17 inches tall, but you can reduce or increase the size to suit your wishes. My picture is of a wooden one.
Supplies
Thin 1/4 inch plywood or white art foam sheets
Thin wire or strong thread
Sharpie for details
Scissors for foam - scroll saw for wood
White acrylic paint for skeleton bones
Fluorescent paint if you want to make them glow in the dark.
Small foam paint brush
Black ribbon for Bow Tie
Black felt or foam for Top Hat
Instructions
Click on Printables and print out the pattern pieces on light card stock. You can change the size if you like.
Cut the pieces out, and reverse the arm and leg pieces for the opposite limbs.
Make a second copy as a guide to use in placing the pieces in the correct order.
If you make your skeleton from wood, drill a small whole as indicated by the dots. Using fine wire, loop it through adjacent bones, twist to fasten leaving enough wire to let it hang freely.
When using foam, you can assemble them with a needle and strong thread. Make your thread long enough to let them hang freely. Make a hanging loop and fasten at the top of the head.
The wood pieces should be painted before you assemble them. I used white acrylic paint, then painted the front with fluorescent (glow-in-the-dark) paint. Let this dry and then draw on the details with a black Sharpie. Use black foam or felt and cut a double hat piece. Match them up over the top of the skull (see picture) and glue into place.
Tie a black ribbon bow between the skull and the rib cage.
This craft was designed by Harlean from Arkansas and is reprinted courtesy of ThriftyFun.com
Patterns, Templates and Printables
Click on a pattern to open it in a new window
Contributor

ThriftyFun
Our goal at ThriftyFun.com is to provide valuable information to help people save money, save time and solve problems. ThriftyFun and its predecessors have been online since 1997. ThriftyFun has grown from modest beginnings to become a vibrant online community. Today, ThriftyFun.com is an interactive Web site where you can post questions and contribute answers to others who are trying to have fun while saving money.