Apple Of My Eye Note Pad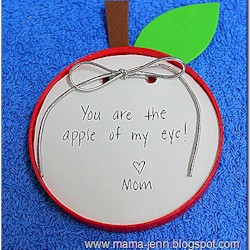 Whether you are looking for a gift your child can make for a teacher or one that you can make to show them that you just love having them around, the Apple Notepad is the perfect way to do it.
Supplies
Plastic red lid (I used the top from a container of frosting…you could use a PB top too!)
Brown & green craft foam
String or ribbon
White paper
Glue
Hole puncher
Instructions
1.Cut a bunch of circles out of the white paper by tracing around the lid. (Be sure to cut the circles a bit smaller than the lid so that they will fit inside.

2.Stack the circles and punch two holes in all of them.

3.With the circles stacked, thread the string/ribbon through the holes and tie the ribbon in a bow.

4.Secure the notepad to the lid by gluing the bottom of the circle stack to the inside of the lid.

5.Cut a brown stem and a green leaf from the foam and glue them to the underside of the lid.
This craft is reprinted courtesy of Mama-Jenn blogspot.com.
Contributor

Mama-Jenn.blogspot.com
I am a Christian wife and home-schooling mama striving to be a Proverbs 31 woman! I am blessed with 5 kids, including one princess and two sets of twin boys! In my "spare" time I enjoy scrapbooking, though blogging seems to be taking its place. I currently have three main blogs. This is my family/homeschool/craft/everything blog. The Homeschool Resource List is a collection of all the free online resources that I have found for homeschoolers. The "Brown Like Me" Book Review is a collection of books featuring "brown" characters. I also write for Totally Tots, which is a blog dedicated to those with toddlers.