Easter Bunny Egg Holder
Cut and Paste Crafts, Decorating Crafts, Early Elementary Craft, Easter Crafts, European and Russian Crafts, librarians, More Printables, More School Crafts, parents, Pet Crafts For Kids, Spring Crafts, teachers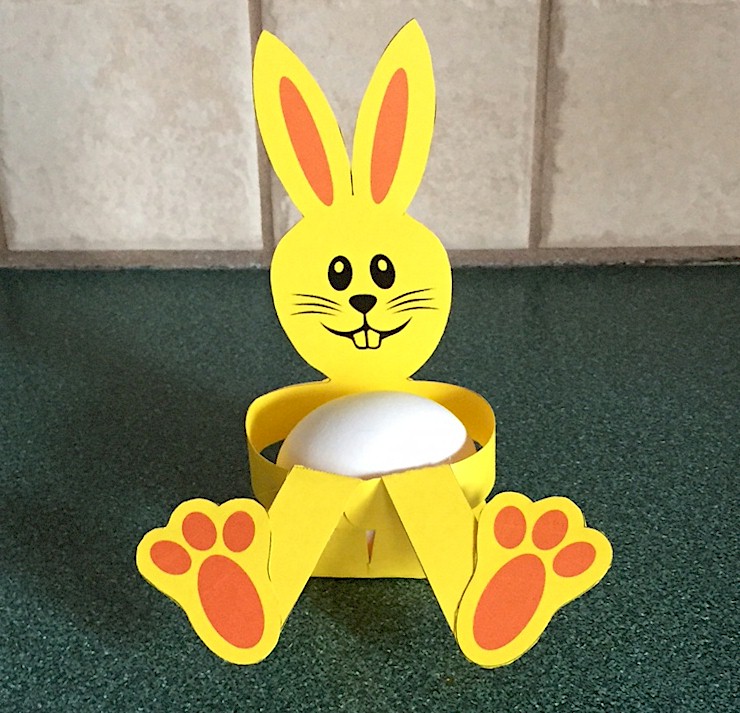 There is nothing like this Easter Bunny Egg Holder to make that hard boiled egg look yummy. The kids will be begging for them for breakfast, lunch and dinner. They also make great table decorations for your Easter feast. Place one at each diner's space as a favor for them to take home to continue the happy feelings of an Easter shared with family and friends.
Trivia:
In the German Lutheran tradition the Easter egg hunt is linked to the Easter Bunny – or the Easter Hare as he was originally known. The first written reference to the Easter Hare was in 1682 in Georg Franck von Franckenau's essay, De ovis paschalibus ('About Easter eggs').Custom had it that the hare would bring a basket of brightly painted eggs for all the children who had been good, and these would be hidden around the house and garden. Source: English Heritage – WHY DO WE HIDE EGGS AT EASTER?
Supplies
Yellow Construction Paper or Card Stock
Scissors
Glue Stick
Instructions
Print  and cut out the pattern on yellow construction paper or card stock.
Using the picture as a reference, fold the pattern on the dotted lines and glue the arms so that they hold up the legs at the last fold.
Glue the feet at the bottom of the legs as shown in the picture.
Then add your hard boiled egg to complete the craft.
Notes: If you want to make it even fancier you could add some Easter grass inside the circle for the egg to rest on.
Also you could use this pattern to make Easter time birthday favors by substituting plastic eggs filled with small candies.
Patterns, Templates and Printables
Click on a pattern to open it in a new window to print in the correct size

e
Patterns, Templates and Printables
Click on a pattern to open it in a new window
Contributor

Sudbudz
Want to have some creative family time? Print out our SudBudz® Masks and get crafty with the kiddos! More than just a typical Fizzy Bath Ball, SudPrize® is a first ever line of skin-loving and natural bath products that make bath time Fun for Kids and Easy for Moms. A Free companion App, SudBudz® engages your children into an immersive world of special and unique characters called SudBudz®.
Tags Easter bunny crafts