Dum Dum Topiary Tree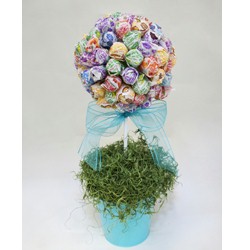 This Dum Dum Topiary Tree makes a great centerpiece for Mother's Day or a Birthday Party.
Supplies
Assorted Dum Dums in pastel colors
Pastel ribbon
Floral foam
Decorative pail or pot
3" Styrofoam ball
Moss
Wooden dowel
White paint
Foam brush
Instructions
1. If you can\'t find a white dowel, start by painting an unfinished dowel with white acrylic craft paint. Set the dowel aside to dry.
2. Take a Styrofoam ball and insert pastel or spring colored Dum Dum Pops until the ball is completely covered. If you find that the lollipop sticks start to run into each other inside the foam, simply trim the sticks with scissors.
3. Place a piece of floral foam inside your pail or pot. Choose a pretty metal pail in a color to go with your theme.
4. Insert one end of your dowel into the Dum Dums-covered Styrofoam ball and the other into the floral foam inside the pail.
5. Finish off your centerpiece with a ribbon tied around the dowel and some decorative moss to cover the floral foam.
That\'s it! In just five easy steps, you\'ve created an elegant topiary centerpiece.
This craft is reprinted courtesy of Spangler Candy.
Contributor

Spangler Candy
Spangler Candy, located in Bryan Ohio,  has been making candy since 1906 and has recently started making crafts and recipes to share with all lovers of candy canes, Dum Dum Pops and other candy favorites. You can learn more about Spangler at http://www.spanglercandy.com.