Stress Balls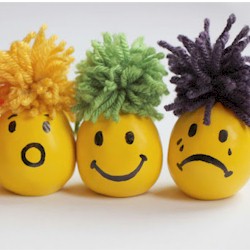 Sarah developed this project to teach her son about emotions and we thought it would also make a great gift for Mom on Mother's Day. These are sure to put a smile on Mom's face and take away her stress.
Supplies
Flour
Funnel
Black Sharpie
Small Balloons
Yarn (optional)
Instructions
All you need to make stress balls are flour, a funnel, a black sharpie and balloons. I couldn\'t find our funnel (figures) so I cut the bottom off of an empty water bottle and it worked just as well.
Stretch the opening of the balloon over the end of your funnel. Scoop flour into it and shake down till it fills your balloon. Tie the balloon off and draw on your face with the black sharpie!
I added on colored yarn to make some fun crazy hair. The hair is just an untrimmed pom pom. Google "how to make a yarn pom pom" for simple tutorials. The colored hair came in handy because I also printed out each balls emotion in its coordinating color. This made it easier for my son to match up the ball to its emotion.
I asked him which ball feels "happy" and then explained, when we are happy, we smile!
Our little game worked well and we played it over and over again. When we were done, I threw out the little pieces of paper, but ended up having to print more out when he wanted to play again later that evening - I should have known better :o)
When not talking about emotions, these little guys are fun to squeeze, squash, smash and smoosh. Perfect for sensory play!
This project is reprinted courtesy of RepeatCrafterMe

Contributor

Repeat Crafter Me
Sarah is a stay-at-home mom to her 1 and 3-year-old boys. She is also an artist and graphic designer that loves crafting with her kids, taking on DIY projects, crocheting and attempting to cook with the help of her Crock Pot.