Dum Dum Countdown Cookie Pops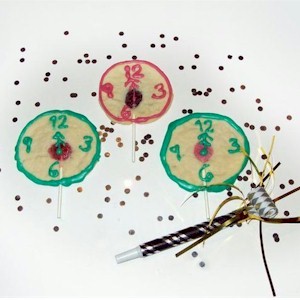 The kids will enjoy making and eating these Countdown Cookie Pops as they wait for the clock to strike midnight.
Supplies
Dum Dums
Sugar Cookie Dough
Writing Icing
Instructions
** You can either buy or make the writing icing for these Dum Dum Countdown Cookie Pops. A good technique to make your own writing icing is to take very thick icing and put it into a sandwich baggie. Cut a corner off the bottom to use the baggie as a pastry bag.
Directions for baking the cookies:
1. Prepare Sugar Cookie Dough. We used pre-made dough, so all that was required was to cut the tube of dough into cookie-sized discs. But feel free to use your favorite sugar cookie recipe!
Note: When choosing a sugar cookie recipe, make sure you find one that bakes for at least 7-9 minutes, as less time will not allow the Dum Dums to melt properly.
2. Place dough on a cookie sheet. Grease the sheet beforehand if your sugar cookies call for it.
3. Press in Dum Dums. Gently press one lollipop onto the center of each piece of cookie dough. The Dum Dums will melt, adhering to the cookie. Don't worry about the sticks catching fire in the oven--they won't!
4. Bake the Cookies. Use the time indicated by your cookie dough.
Directions for decorating the cookies:
1. Outline the cookies. This border of icing will make them look more like a clock in the end.
2. Add the Numbers. Use your icing to write 3, 6, 9, and 12, like a clock.
3. Add Clock Hands. Make two clock hands pointing up at the 12--midnight!
Countdown Cookie Pops are one kid's party food that everyone will want. If you make them for your New Year's Party, they surely won't last until midnight!
Contributor

Spangler Candy
Spangler Candy, located in Bryan Ohio,  has been making candy since 1906 and has recently started making crafts and recipes to share with all lovers of candy canes, Dum Dum Pops and other candy favorites. You can learn more about Spangler at http://www.spanglercandy.com.