Easy To Make Noise Makers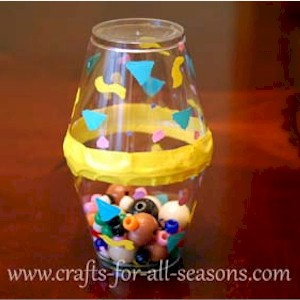 Supplies
Two Plastic disposable tumblers
Colored electrical or craft tape
Things to fill shaker (I used pony beads and wood beads. Other suggestions: beans, rice, popcorn kernels, jingle bells, small stones)
Paint and paintbrush, or other decorations for outside of the shaker
Instructions
Fill one of the plastic glasses with things that make noise. I used pony beads and wood beads, but other suggestions are beans, rice, popcorn kernels, jingle bells, or small stones. Place the other tumbler on top of the first one to enclose the shaker.
Next, secure the glasses together by wrapping the edges together with the colored electrical or craft tape. Press down well.
Decorate the outside of the party shaker. Use paints and a paintbrush to add designs like I did, or try stickers! Enjoy the midnight countdown!
Contributor

Crafts For All Seasons
The Crafts For All Seasons website has many craft projects for every season of the year! There are easy step by step instructions, with many photos to help along the way. Please stop by and browse over 100 craft tutorials!
Newsletter
Subscribe to our free newsletter to get creative crafts mailed to your inbox.